Staff, faculty invited to upcoming Green Zone sessions that help support military-connected Purdue students
Last updated: January 13, 2022
Purdue's Veterans Success Center (VSC) invites faculty, staff, and students to attend upcoming sessions of Green Zone training, as well as the Green Zone Student Panel that is offered twice a year.
According to Jamie Richards, VSC director, veteran and military students face unique challenges when transitioning from the military to a campus environment.
"These can include things like difficulty navigating earned benefits across multiple agencies—including the GIBILL—and unique advising requirements, as well as hurdles related to being nontraditional students," Richards says. "These workshops are designed to provide staff, faculty, and other students with a deeper understanding and appreciation of the military experience, as well as develop better tools to serve those students."
At the end of the training, participants will receive a badge to display in their work area indicating they are trained members of the Green Zone.
Also offered is a Green Zone Student Panel. The panel is made up of students from varying backgrounds; veteran, active duty, reserve or National Guard, ROTC, and family member. The panel is moderated with an opportunity for Q&A.
The training is free, but registration is required. Individuals who are interested in the two-hour workshop may sign up for any of the following sessions, as space permits:
Green Zone: 9-11 a.m. on Thursday, Jan. 27, WALC 3121
Green Zone: 2-4 p.m. on Tuesday, Feb. 22, UNIV 317
Green Zone Student Panel: 10 a.m. to noon on Wednesday, March 23, STEW 313
Green Zone Virtual Session: 1:30-3:30 p.m. on Monday, April 18, via Zoom
Register For Green Zone Training
Why Participate in Green Zone Training?
Dr. Zenephia Evans, associate dean of students, attended her first Green Zone training in November of 2019. Veterans Day had recently passed, and the impactful events of the holiday celebrations had inspired Evans to learn more about how she could best support military-connected students.
"Students that have served in the military have unique attributes that they bring to the table. Their lived experiences and college transition is different from traditional students who arrive on campus directly from high school verses serving in a military branch," said Evans. "I wanted to better understand those lived experiences and help our military-connected students build connections at Purdue University."
Since the program's inception in 2008, the military-connected student population has nearly doubled from 600 students to 1,120 in 2021. With more Purdue students who are veterans, members of the military, or benefit-using family members, Evans says there have been more opportunities to put her training to the test.
"One of the many things I learned during my Green Zone training session that resonates with me, is that the natural curiosity of civilians may be deemed as intrusive and offensive questioning to our military-connected students," Evans said. "I was walking through campus once and overheard a conversion between two students. One student, dressed in his military fatigues, was asked a particularly invasive question by another student. I quickly entered the conversation and changed the topic to a more lighthearted discussion."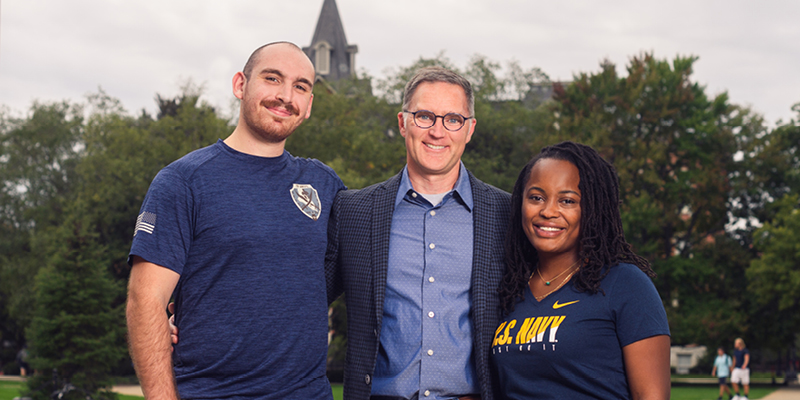 Evans said she could immediately note the relief on the military-connected student's face.
"I would not have known to do that without my Green Zone training," she added. "I am thankful for the program and continuously recommend it to new and current staff and faculty."
Individuals who would like to participate in Green Zone training but are unable to attend the scheduled sessions may contact Jamie Richards to schedule future offerings. Staff and faculty may also visit the VSC (part of Student Success Programs), located in the Purdue Memorial Union, Room 284.
Please visit the following links if you wish to preview a few discussion topics before attending a training.
VA Campus Toolkit 
15 Things Veterans Want You to Know
---
Contacts:
Andrea Mattingly, Communications Director for Student Success Programs,  andrea@purdue.edu
Jamie Richards, Director of Veterans Success Center,  jamie@purdue.edu
Zenephia Evans, Associate Dean of Students for Education and Advocacy,  zevans@purdue.edu